2016 Website & App Awards Categories Judging Committee
Committee Chair:
Simon Hardy, VP Brand Experience
FCV Interactive, Vancouver, British Columbia, Canada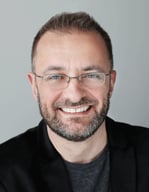 Simon Hardy leads FCV's Design, Brand, and Content teams, creating solutions that engage customers and deliver results. An award-winning creative director, designer, and copywriter with international experience across digital, print, and TV for brands including Starbucks, Nike, lululemon athletica, and EA Sports, Simon also serves on the Digital Design Advisory Board at Vancouver Film School.
Simon previously worked at Blast Radius and TBWA\Worldwide. He has a Bachelor of Arts Degree from Buckinghamshire New University in the United Kingdom.
Committee:
Ani Atanasova, CEO
Pixelhunters, Dubai, United Arab Emirates
Dr.Ani Atanasova is the CEO and co-founder of Pixelhunters - a Dubai based company specializing in VR, video games, 3D animation.
Robby Berthume , CEO
Bull & Beard, Winston-Salem, North Carolina, USA
Robby Berthume is the CEO of Bull & Beard and an Advertising & Digital Maven, Mentor, Motivator & Matchmaker. He's a member of YEC and Forbes Agency Council in addition to being a well known writer and speaker.
Dawn Campbell Giesman, Content & Digital Marketing Leader
Just Candy / WH Candy, Cincinnati, Ohio, United States
Dawn is a digital marketer with 15 years across the marketing continuum, including PR, content creation and curation, website development, SEO/SEM, social media marketing, email, and brand development. She's collaborated with Fortune 50 brands. Dawn has direct experience in engineering, SaaS, tech, education, financial services, IT/telecom, nonprofit, healthcare, food beverage, and ecommerce.
Elizabeth Clark, Director and Co-Founder
YELL Creative, Surry Hills, New South Wales, Australia
I'm Elly, a creative leader, communicator and strategist. I'm co-founder of Yell Creative, a creative agency that specialises in financial services marketing. My years of experience across many different industries has given me a deep understanding of how to develop inspirational ideas and how much work is needed to deliver them, across the ever changing media landscape.
Lebin Ebru Cokisler, Head of Corporate Communications
Anadolu Group, Istanbul, Turkey
In 2013, Lebin Ebru Cokisler joined Anadolu Group, one of the biggest holding groups in Turkey. Between 1992 and 2013, she was Head of Corporate Communications at leading companies in sectors such as telecommunications, media, and petroleum. She is a graduate of the Cinema and Television Department at Dokuz Eylül University.
Simon Dive, Senior Manager, Content Innovation
BCLC, Vancouver, British Columbia, Canada
Jon Dobinson , Chief Executive
Other Creative Ltd, London, United Kingdom
Jon has been a leader, creative director and writer in the creative sector for 25 years, winning many of the top awards in the industry. He founded Other in 1996 and it has grown to become one of the most respected boutique agencies, known for solving the sector's toughest briefs.
Jennifer Green, Director of Planning and Strategy
Agency59, Toronto, Ontario, Canada
A strategic marketing and communications leader whose first job was coordinating an awareness campaign for Microsoft Hotmail – that consisted mostly of offline media. With a mixed B2B and B2C background Jennifer is an integrated strategist with extensive experience with top Canadian and global brands across ICT, Tourism, CPG and Apparel categories.
Ken Hegan, Senior Copywriter
Blast Radius, Vancouver, British Columbia, Canada
Ken Hegan is Sr. Copywriter at Blast Radius, a global marketing agency. He has TV writing credits on 20+ TV series and specials broadcast on CTV, TSN, Discovery, CBC, CNBC/Slice. As a magazine writer, he's been published in Rolling Stone, GQ, MSN (300+ travel columns) and The National Post.
Cat Leaver , Head of Strategy
We are AD, Glasgow, Glasgow, United Kingdom
"As Head of Strategy at UK-wide digital agency We are AD, Cat is a digital marketing and strategy specialist who manages the agency's strategic direction, as well as the implementation and quality of the digital marketing team's output. Over her five years with AD she has worked with leading brands such as EDF Energy, the Science Museum, Grass Roots Group and University of Southampton to deliver results-driven campaigns and digital solutions. "
Bilge Onur Gonenc, Brand Communications Manager
TURKCELL, Istanbul, Turkey
Bilge ONUR is the Brand Communications Manager of Turkcell, the leader integrated communications company of Turkey. Under Bilge's leadership,Turkcell and Turkcell Superonline won numerous prestigious awards in marketing communications field. Prior to joining Turkcell, Bilge leaded the marketing communications departments of biggest companies in Turkey, such as TTNET, Turk Telekom, Carrefour and Tesco. Bilge Onur is graduated from Galatarasay University in Istanbul, and has a DEA Marketing from IAE de Lille-France.
John Ounpuu, Partner, Head of Strategy
Modern Craft, Vancouver, British Columbia, Canada
John is a strategist and consultant with over a decade of experience helping brands like Nike, Starbucks, lululemon and Microsoft better connect with modern customers through digital. He co-founded Modern Craft—a Vancouver-based consultancy that provides unbiased digital strategy advice to marketing and CX leaders—in 2014.
Rohit Tandon, Freelance Digital Art Director
Freelance, Panaji, Goa, India
With 14 years experience as a Art Director and UI designer, Rohit has been a part of large agencies as well as small tech startups. Working with different clients and technologies, he has had the opportunities to work on websites, apps , social mobile games and hardware products. Lately he has transitioned into a creative leader who builds creative teams for startups and helps guide them through their initial phase.
Emilia Trouche , PR Communications Specialist
Nord Stream 2, Zug, Switzerland
"Creative, organized and dynamic Marketing, Public Relations and Communications management professional with solid practical experience and sound theoretical knowledge of business and retail marketing in a variety of international markets. Emilia has an MA in Strategic Marketing Management and is currently PR & Communications Specialist at Nord Stream 2 AG. "
Young Kug Won, Executive Creative Director
Solcom Co., Ltd., Seoul, Korea
Solcom CEO & Creative Director, Young Kug Won has a Doctorate of Visual Design from Chung-ang University. He has judged for 5 international awards contests.